Divorce Attorney
In Texas, a divorce generally involves two primary issues: property division and issues related to the minor children of the marriage. Unless a special circumstance applies, wherein one party is at fault for the break-up of the marriage, the divorce is usually granted on the "no-fault" ground of insupportability. The term insupportability means that due to discord or conflict of personalities the legitimate ends of the marriage relationship has been destroyed, i.e., you simply do not get along any more.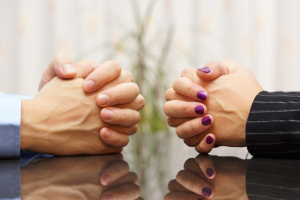 When a divorce is granted on the ground of insupportability, the marital property (or community property) is divided by a just and right division. The community property, which is subject to this just and right division, is all property acquired during the marriage that is not acquired by gift, bequest, or devise, or in other words, not gifts or inheritance. Property owned by a spouse prior to marriage or received during the marriage by gift, bequest, or devise is separate property, which generally means it is not subject to division by a divorce court. This is an overly simplified explanation of property division and characterization of marital property, and there are many exceptions to these general rules.
Children that are not yet 18 years of age, have not yet graduated from high school or an equivalent, and/or suffer from a disability will be subject to the parenting plan implemented by the Texas court and included in the divorce decree. Most issues related to the children are decided by determining what is in the child's best interest. In most circumstances, parents will be designated as joint managing conservators and a residency restriction will be imposed to limit the geographic boundaries in which the children can live to ensure continuous and frequent contact between the children and both parents.
Child support is usually set according to the guidelines set forth in the Texas Family Code, which start at 20% of an obligor's net monthly resources for one child. Finally, Texas courts impose a possession schedule to outline the visitation of the parent not entitled to determine the residence of the child. It is presumptively in a child's (who is over the age of 3) best interest to have visitation pursuant to the standard possession schedule outlined in the Texas Family Code. This is merely an overview of issues related to children in a Texas divorce, and the outcome in each case vary based on the specific issues arising in each, individual cases.
Leah Coulter's principal office is in McKinney but she loves helping residents of Frisco, Allen, Fairview, and Prosper.